Do not miss this Holiday Hot Ticket opening December 4, 2021-February 27, 2022, at 19 Oakbrook Center just behind Macy's next to Mitchell Gold + Bob Williams. This first-ever walk-through documentary by Cliff Skelliter is not just the story of Princess Diana. It is a story of two families intimately entwined for nearly fifty years. The British Royals and their longest-serving photographer, Anwar Hussein, and his sons Samir and his younger brother, Zak were not just the Royal photographers, but also cherished companions to the family. Both sons succeeded their father as photographers to the Royals. Samir and Zak share theirs and their father's archival, unique treasured moments in Royal history with us through photos and narration.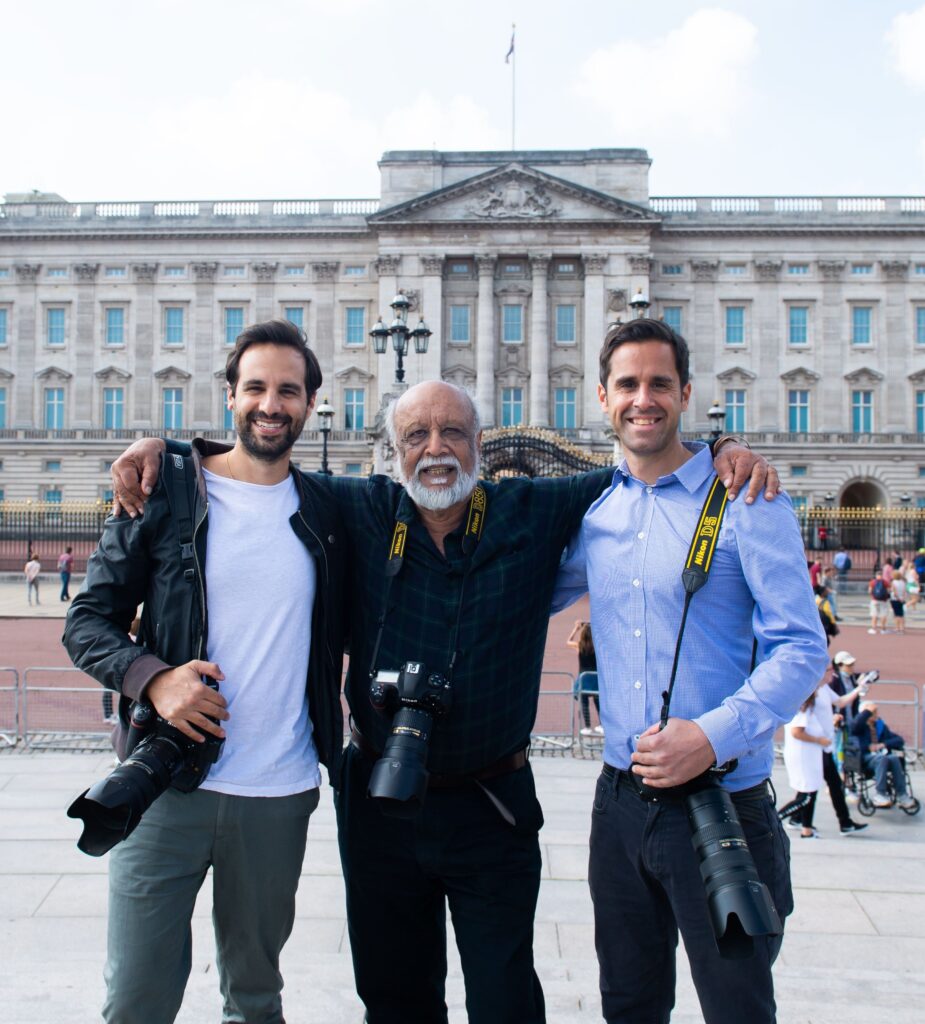 Whether you are an avid fan of Princess Diana, a history buff, a lover of photography, a fashionista, an art connoisseur, or engrossed in a sovereign culture you will be fascinated by this artfully curated exhibit. Purportedly the idea for Skelliter's Princess Diana Accredited Access Exhibition came from his viewing of the Michael Jordan/Chicago Bulls Docu-series The Last Dance. From the glut of films, documentaries, books, and other media attention you would think we know everything about Diana Spencer Princess of Wales, but this exhibit offers touching private glimpses and exclusive never-heard-before stories about Diana's fairy tale turned tragedy. 
The Crowning Glory installation was a surprising delight. It features six impressive, intricate, paper sculptures by the world-renowned artist based in Montreal, Pauline Loctin. This art exhibit was inspired by Princess Diana and her successors, Kate and Meghan's beautiful hats. The largest highlight sculpture is a replica of the Cambridge Lover's Knot Tiara created for Queen Mary in 1914 and loaned to Princess Diana by Queen Elizabeth and now often worn by Duchess Kate Middleton.
The exhibit is divided into themes including Setting the Table, Darkroom, Growing Up, Glam, Crowning Glory, World Tour, Humanitarian, Unguarded, Diana & New Royals. I was so emotionally affected by the series of photos documenting The Power of Touch, The Generosity of Touch, The Influence of Touch, The Compassion of Touch, The Dignity of Touch, and The Legacy of Touch. These images left me with tears brimming.
My sister and I agreed that our favorite picture was One in a Million featuring Meghan Markel and Prince Harry walking under an umbrella in the pouring rain. It is backlit by happenstance from other photographers flashes. The photo is so charming and dramatic. Princess Diana's most treasured photo was her cradling a blind, cancer-stricken, Pakistani baby with pure love.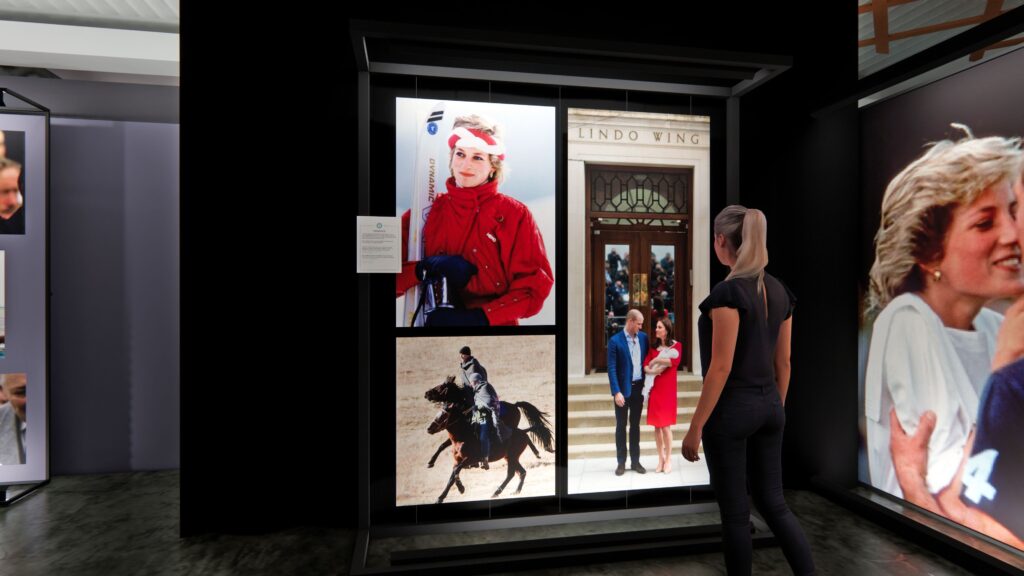 Global interest in Princess Diana has not waned but intensified with the advent of what would have been her sixtieth birthday. When Candle in the Wind was composed by Elton John for Norma Jeane Mortenson aka Marilyn Monroe, it described her beauty and vulnerability. It was also a fitting tribute to Princess Diana when Elton played it at her funeral. She was in her youth a fragile teenage ingenue, so vulnerable to the pressures of the Royal family and media criticisms. She became a shining light to so many who admired her beauty, compassionate soul, and gentleness. Gaining her freedom from the austere role of a royal marriage assigned to her allowed her to grow into a modern role model for women. She transformed into a more confident, strong, capable woman. This exhibit walks you through her too short reign with photos and narration featuring exclusive, never before heard intimate stories. The legacy lives on in her charity, her children, and her fandom. As this exhibit declares she is the Princess who changed the world.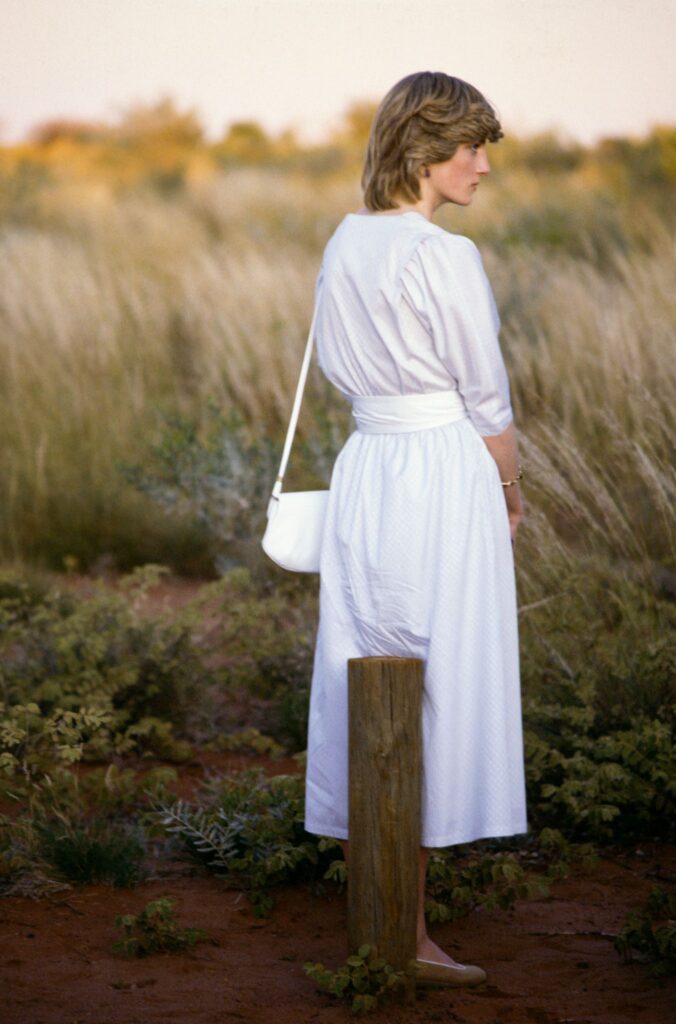 All are welcome to the Handicap accessible Princess Diana Exhibition. General Admission is $28.00 and includes entry and an audio guide. VIP Admission is $42.00 and includes expedited entry, an audio guide, and a souvenir program. The duration of the exhibit is between 60 and 90 minutes. The exhibit is open Wednesdays and Thursdays: 11:00 am-6:00 pm. Fridays and Saturdays 11:00 am -7:00 pm. Sundays 11:00 am-5:00 pm. They are closed Monday and Tuesday. You must mask-up throughout the experience. Online reservations can be made through Fever.
Photos: Courtesy of Fever
"Follow them on social media @princessdianaexhibition and @heronagency"