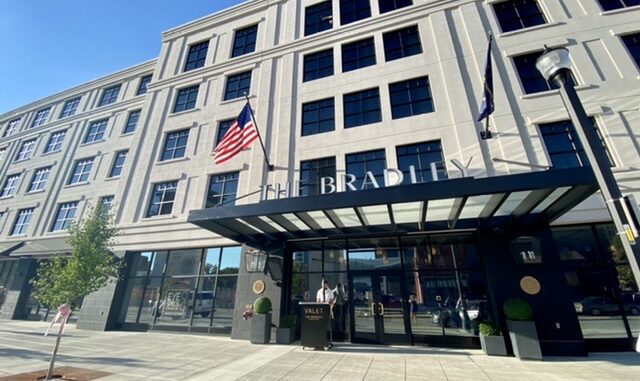 The Bradley, Fort Wayne, Indiana's brand new boutique hotel, created in partnership with hotel owner and operator Provenance and Barbara Bradley Baekgaard, co-founder of the iconic women's fashion label Vera Bradley, debuted to the public two months ago.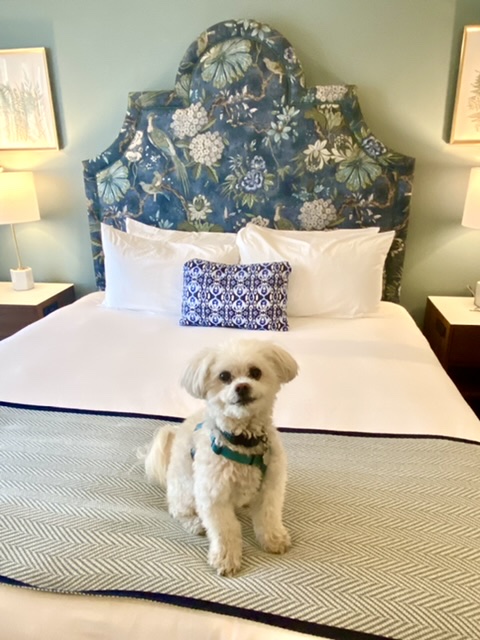 The hotel features locally commissioned art pieces, new dining experiences (including a rooftop bar), and speciality designed suites, some designed by Barbara herself. The Bradley includes 124 rooms, nine specially designed suites, and distinctive food and beverage experiences. The Bradley is set to serve as a unique home-away-from-home for Hoosiers and visitors to Fort Wayne.
If you ever are in the area, or passing through Fort Wayne, Indiana, then a stay at The Bradley Hotel is an absolute must! The hotel is a luxurious and delightful experience, that will leave you satisfied and wanting to return in the future. Everything from the interior decor to the rooms to the service to the food are all exceptional.

My guest and I especially loved our stay in our guest room, which was beautifully decorated with Vera Bradley design inspirations. The room was inviting, showcasing a color palette including tranquil hues of blue, green and cream, showcasing a subtle nod to florals, and modern patterns. The room was a clever blend of chic contemporary and traditional designs with clean lines.

Next to the bathroom, hung a soft, plush white robe if needed. The bathroom was a highlight of our room, complete with bold blue tones and decorated floor and wall tiles. The large walk in shower complete with a sliding glass door was the ultimate spa experience, luxurious and spacious with excellent water pressure.

Other things to mention were the generously sized TV, which had a dish network and access to streaming services such as Netflix. We enjoyed the freedom to channel surf as we wound down before bed time. The room also featured a mini-fridge, which was a lifesaver when storing our leftovers after dining. There was a garment steamer, which we found to be a thoughtful amenity. We're also delighted with the king-size bed, which was very comfortable; the down comforter was perfectly cozy, yet breathable. The pillows were very plush, thus ensuring a wonderful night's sleep.
As for the hotel building itself, it takes up roughly half a city block, and has a commanding presence on Main Street in the downtown Fort Wayne area.
Highlights of staying at The Bradley and in the city of Fort Wayne:
TOP-TIER DINING & ROOFTOP BAR EXPERIENCES: Located on the ground level, Arbor is positioned to be the culinary heartbeat of the property, offering a glassed-in private dining area as well as seasonal outdoor patio seating. With a name rooted in the city's natural beauty and tree lined trails, the restaurant presents a sophisticated mix of traditional and contemporary design – sunlit by day and illuminated by night – and as notable for its aesthetic as its cuisine.

Arbor's menu features modern American fare, each approachable dish offers an elevated twist using locally sourced ingredients. For breakfast, grab an Egg BLT and a coffee from local purveyor, Utopian Coffee, or favorites like buttermilk fried chicken and "grown up" grilled cheese, to classic chicken pot pie for lunch and dinner, respectively.
BIRDIE'S, The Bradley's rooftop bar, is named after Baekgaard, honoring a nickname given to her by her eldest grandchild for her love of birds. In the vibrant space, casual and comfortable by design, diners can settle in at the indoor bar – which serves as the focal point – or among the textured banquettes spaced throughout.

Outfitted with a welcoming palette of sienna, terra cotta, deep-sea blues and creams, Birdie's also features an outdoor rooftop terrace overlooking downtown Fort Wayne, fully embracing its carefree spirit and light-hearted fun. Here, locals and guests alike can kick back around a central fireplace and sip on classic cocktails. Menu items range from casual bites like fried chicken sandwiches and hearty offerings like sourdough French toast for weekend brunch.
Dining at Birdie's and Arbor were amazing experiences. Birdie's, which should be on everyone's list, was a wonderful rooftop exerprience, complete with exquisite cocktails and food. The menu consists of something for everyone, from comfort food, to vegetarian options, to delicious skirt steak, and even walleye tacos.
I strongly recommend the starter we ordered, the Mac N' Cini (crispy mac n' cheese, grated parm, chives, spicy tomato crema). My guest had the skirt steak (cast iron seared, roasted tomato, charred peppers, onion, chimichurri), which was very tender and cooked to perfection. Every bite was delightful and the portion sizes were just right. My entree was a vegetarian (or vegan's) culinary delight, consisting of delectable, creamy quinoa, sundried tomato charred sauce, pineapple, onion and seared tofu. For dessert, we consumed warm, straight out of the oven chocolate chip cookies, flecked with sea salt.

The cocktails were fantastic as well. We enjoyed Birth of the Cool (tequila blanco, grapefruit, lime mezcal) and 1891 McFly (lilet rose, vodka, lavender spritz). The drinks were well-balanced, flavorful and very refreshing.

We especially loved the breakfast menu at Arbor. Breakfast and lunch are offered, but the dinner menu is still in the works (check with the hotel for updates). Our breakfast was the perfect start to our weekend morning. We indulged in delicious gourmet comfort food such as the everything bagel (cucumber, pickled onion, fresh cheese, capers, tomato, herbs, smoked salmon), divine overnight oats (oat milk, honey, chia, almond butter, coconut and berries), caramelized grapefruit, and the breakfast biscuit sandwich (tomato jam, fried eggs, arugula, white cheddar). I also would highly recommend the cappuccino (made with care and high quality espresso), and turmeric latte, which was a lovely golden yellow orange.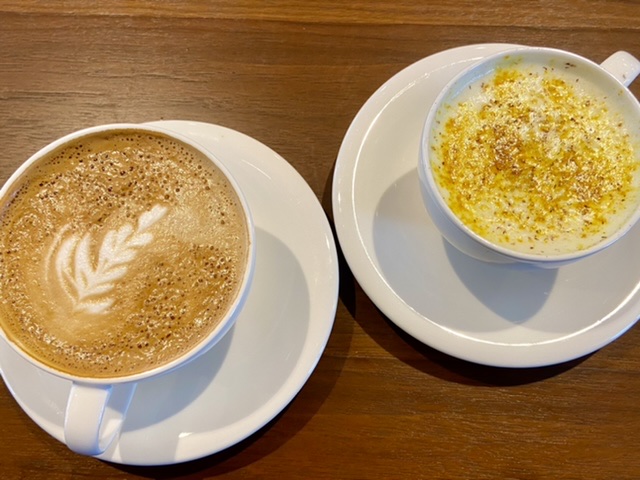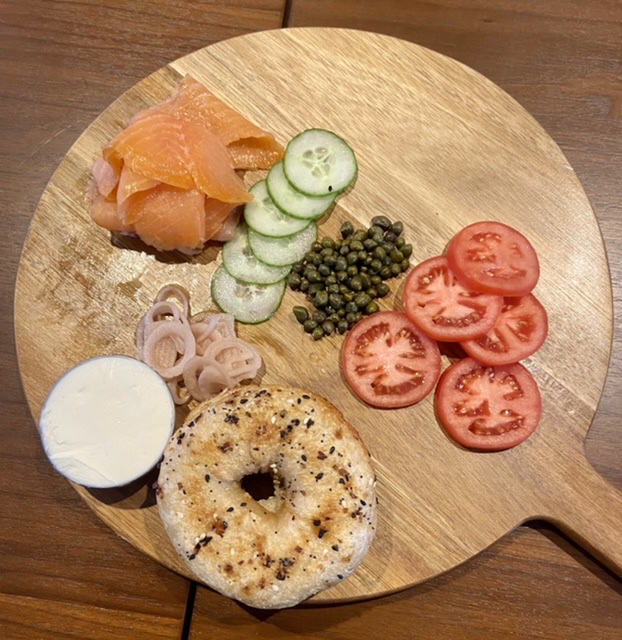 ART-FULLY INSPIRED: The Bradley illuminates the bright talent of Fort Wayne by featuring locally sourced art to tell the story of the historic city, on display in the guest rooms, lobby, meeting spaces and restaurants. Each guest room will include commissioned custom botanical-inspired letterpress prints by local artist Julie Wall of HEDGE Studios. Additionally, the hotel will feature a rotating art gallery in partnership with Purdue University Fort Wayne Department of Art and Design as well as works created by artist Theoplis Smith III, aka Phresh Laundry, known for his pop culture art installations and larger-than-life murals placed around the city.
The Bradley featured dazzling local artist pieces throughout the lobby, our room and the restaurants. Our eyes were constantly entertained with clever colors, themes, shapes and designs on every wall. Also while in Fort Wayne, there was no excuse not to experience the city's culture and art. We visited the Fort Wayne Museum of Art, which was a quick convenient 2 block walk from the hotel. The museum featured several amazing exhibits of hand blown glass pieces, including the famous designer, Dale Chihuly.

Other artistic highlights of the Bradley were the charming and welcoming lobby complete with comfortable sofas and chairs in eye popping colors. Throughout the lobby, our eyes wandered around, catching a variety of stand out light fixtures, Vera Bradley inspired wallpaper patterns, including the amazing variety of framed art on the walls. Any guest who ventures inside, would be able to tell that careful thought and planning of attention and consideration went into the details of the furnishings and decor.

One important note to mention about The Bradley is the phenomenal service. Everyone was incredibly pleasant and welcoming, from the valet who greeted us, grabbed a luggage cart for us, and held the door open. The front desk hosts and hostesses, our server,, Jenna at Birdie's, and Amber in the Arbor cafe in the lobby. We received top notch service and kindness from everyone we encountered.
We noticed during our visit that Downtown Fort Wayne makes getting around very easy. You almost never need a car. While our car was safely parked with a valet during our stay, we explored and discovered a beautiful nearby park and river, the art museum, a performing arts center, and several great restaurants and bars, which were all only a few minutes away by foot.
GUEST SERVICES: Overnight guests at The Bradley have the opportunity to experience Provenance Signature guest services, such as pet-friendly amenities; Well + Fit kits to stream workouts in-room; an on-site fitness center with both a Peloton bike and MIRROR; as well as complimentary bicycles available to explore the city's nearby parks and trails.
We were delighted by how welcoming and dog friendly The Bradley was. Our dog, Marley, had an enjoyable time being treated like a guest. When we first checked in, he was greeted with dog bones, a bed, and a water and food bowl. Marley was perfectly at home there. I hope that hotels continue the Bradley's trend of including and accommodating our fur babies when we travel!
The fitness room of The Bradley was also enjoyable. It was small but functional, offering high quality cardio cardio machines, dumbbells, mats, and more, to get a good workout in.

LOCATION HIGHLIGHTS: Continuing the momentum of Fort Wayne's downtown and waterfront revitalization, the hotel joins recent tourism developments including The Landing, a vibrant mix of independent businesses and restaurants and Promenade Park, a destination for recreation, arts and culture. The Bradley is centrally located in the downtown Fort Wayne area, and within walking distance to these new developments allowing guests to easily enjoy all the arts and cultural opportunities the city has to offer.

When we strolled around Fort Wayne, we were the ultimate tourists, taking dozens of photos everywhere we went, and gazing at amazing and creative murals painted everywhere on the buildings and in alleyways. The Landing was brand new and featured shops, bars, restaurants and condo buildings.
Photos: Jennifer Lunz
For more information on The Bradley, please visit the hotel website.