All items listed from most to least expensive.
BFF Necklace Set by Shahla Karimi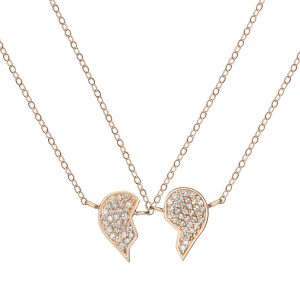 Nothing is more valuable than the relationships we have. Showcase the unique and exceptional bond between mother and daughter with the BFF series.  Metal: 14K Gold Stones: White Diamonds (.31 carats) Size: Adjustable 15-16″ Chain Please note, diamonds used are top quality – all will be VS-VVS clarity / F-G color.
$2,190.00  Buy now!!
EF Collection Rainbow Eternity Band Ring
Brighten any mom's day with this rainbow ring from EF Collection. Equal parts fun and dainty, she won't want to take it off.
$685.00  Buy now!!
Forever Rose in 14k Gold
The iconic rose is one of the most recognized symbols of love and beauty even with its short lifespan. This pendant catches the rose at its most beautiful moment, in full bloom. Each rose is made in solid 14 karat gold and detailed by hand to truly bring it to life. The pendant is then inspected for perfection and brought to a high polish. This is the perfect gift for a loved one, a gift to yourself as a reminder to love yourself or maybe you just love roses! Whatever it may be, the beauty of the piece is easily appreciated.
Each rose pendant has subtle differences making each one unique, as no two roses are identical in nature. The pendant is roughly 1.5 inches long and 0.75 of an inch and available in yellow, white and rose gold.
$249.99  Buy now!!
Like One Infinity Bracelet
"Like One" Sterling Silver Infinity Bracelet. Quote Reads: Like one, like the other, like daughter, like mother.
$239.00  Buy now!!
dalla nonna my love necklace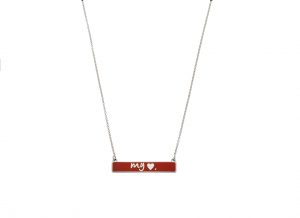 The dalla nonna my love necklace shows her you love her, while letting her keep a special date close to her heart! Available in sterling silver, rose gold and yellow gold. Pick your enamel color and engrave a date on the back.
$235.00-$585.00  Buy now!!
Solid Gold Mobius Ring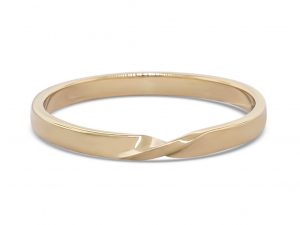 The Mobius strip or band is a surface with only one side and only one boundary component.
It symbolizes unity and oneness. Sleek, modern and so comfortable to wear. It's the perfect gift for the busy mom.
$230  Buy now!!
Solid Gold Mobius Studs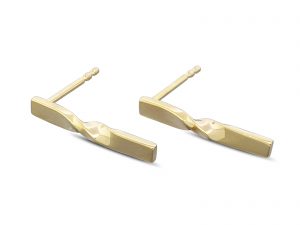 These modern and beautiful earrings are the perfect gift for the minimalist.  Look and feel beautiful with these modern stud earrings. Available in yellow, rose or white gold.
$150  Buy now!!
A Great Mom
"A Great Mom" Hand-Woven Bracelet with Sterling Beads. Quote reads: Behind every good kid is a great mom.
$149.00  Buy now!!
ACCENT Custom Necklace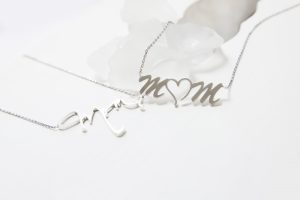 All moms love jewelry and nostalgia, so why not create a one of a kind necklace to make her Mother's Day that much more meaningful. Whether it is her special nickname, her favorite saying, or even a sketch, ACCENT can transform it into a beautiful metal jewelry using customization software and 3D printing technology to create the fashion accessory she'd never expect!
$129.99  Buy now!!
IfOnly Jewelry Making Party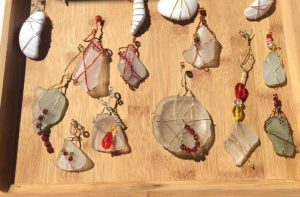 Jewelry Making Party- Learn the art of jewelry making in this fun and beginner friendly in-home class. It's perfect for a weekend get together with friends or family.
The Experience – Join Celeste Feldman, a seasoned jewelry artisan in a fun-filled hands-on jewelry making party. Guests will learn to create their own wire wrapped crystal pendants and a pair of earrings.  The host will receive a special custom piece from Celeste's collection of handmade jewelry.
$100/person  Buy now!!
Strong Women Sterling Silver Pendant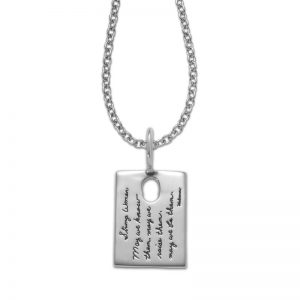 "Strong Women" Oblong Sterling Silver Pendant-Quote reads: Strong Women. May we know them, may we raise them, may we be them. 18″ Sterling Silver chain included.
$99.00  Buy now!!
Revolar Locket by Cerimani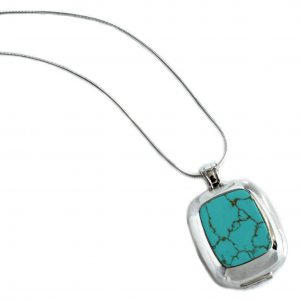 REVOLAR, the global leader in the Personal Safety Device Industry in partnership with New York based Cerimani, creators of truly unique and elegant jewelry launched a new line of smart safety jewelry designed exclusively for the Revolar Instinct Personal Safety Device. The new Revolar Locket by Cerimani fits securely around the Revolar Instinct Personal Safety Device allowing individuals to stay connected and stay safe while maintaining exquisite and sustainable style.In short, the company's small and versatile Revolar Instinct Personal Safety Device uses patented technology to empower individuals to stay safe using functionality that's simple, discreet and customizable. The 1-2-3 click alert system provides protection and peace of mind not only to Revolar's users but to their friends, family, co-workers or anyone the user chooses to receive real-time status updates for whatever situation they are facing. All three levels of Revolar Alerts provide the users GPS location via both text and email to their contacts. The Revolar Locket by Cerimani are made of sterling silver and will come with either Mother of Pearl OR Turquoise stones, both available at an exclusive presale price of $99 at starting May 1st.
$99  Buy now!!
Photo Swing Locket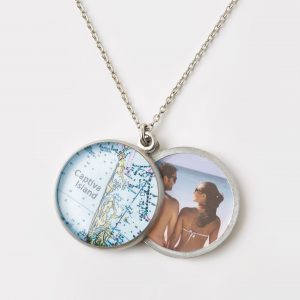 A locket with your location of choice! Our Photo Swing Locket packs a plethora of possibilities to commemorate your most cherished memories. Start with your location of choice on the front and further personalize with up to two photos or snippets of memorabilia on the inside, a romantic letter, a favorite poem, the choice is yours! Perfect to commemorate special events, your wedding, a favorite vacation and more, so no matter how many years have passed or what distance you've traveled, your most cherished memories are carried close to your heart and fashionably secured around your neck. The swing design easily opens to the side and is held closed by gravity when worn. About the size of a quarter, handcrafted from lead and nickel free pewter and paired with a fine 30″ pewter toned curb chain, this necklace is perfect for everyday wear to formal occasions. Further personalize with Engraving and Gift Wrap.
Handcrafted in Portland, Maine USA-Nautical chart or map specially selected for your location –
Ships within 11 business days of your order date
$95.00  Buy now!!
Mobius Ring with birthstone color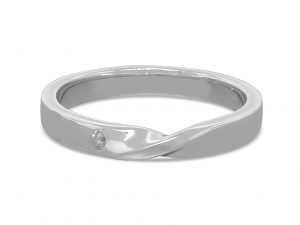 Looking for an meaningful mother's ring? This Mobius band is a great choice that you can personalize with your own birthstone color. The Mobius ring is a symbol of infinity and oneness. The tiny CZ stone gives the Mobius ring a touch of elegance making it more special for the one you love.
$80  Buy now!!
Vertical Mobius Bar Necklace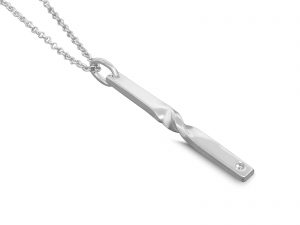 Get this Mobius inspired silver pendant necklace. It is especially handcrafted so that each piece is unique on its own. The twist design took inspiration from the Mobius strip as a symbol of everlasting love. A tiny CZ stone is set at the edge to make this jewelry piece more meaningful. The simple design makes it great for everyday wear and for layering.
$80  Buy now!!
The Miami Set
The Miami Set by Simbi is the perfect gift for the mom who loves to give back. These bracelets are made with pure clay harvested in the mountains of Haiti, and are 100% organic, vegan and biodegradable, keeping with Simbi's mission to preserve earth's cycle of life. The Miami-inspired set of 3 charm bracelets is lightweight, has a "cool to the skin" feel, and is sure to accessorize mom with the perfect complement to any stylish outfit. With each bracelet supporting 15 sustainable jobs and providing clean water to the people of Haiti, The Miami Set flawlessly combines style with philanthropy.
$79.00  Buy now!!
Mobius Bar Bracelet
This sterling silver bracelet features a Mobius bar finished with a bright shine. It is perfect for everyday wear and great for any occasion.
$60  Buy now!!
Mobius Dangle Earrings in Sterling Silver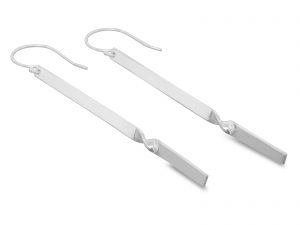 This sterling silver jewelry features a mobius bar. Ladies are going to love these simple earrings.
It is perfect for everyday wear and great for any occasion. This piece is handmade and crafted in sterling silver.
$60 Buy now!!
Dear Heart Designs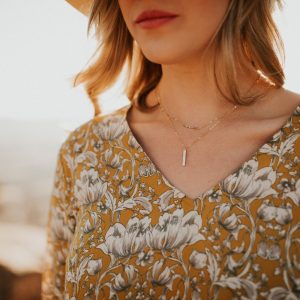 Gift your hero of a mom a beautifully crafted necklace. Dear Heart Designs is a faith-inspired jewelry brand whose feminine yet minimalist pieces have garnered the attention of celebrity designer Joanna Gaines.
$48  Buy now!!
Stainless Steel ID with Crystals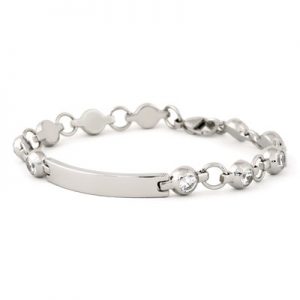 The Ladies' ID bracelets are designed for the woman with a flair for style and sophistication.
$44.95  Buy now!!
Kristalize Jewelry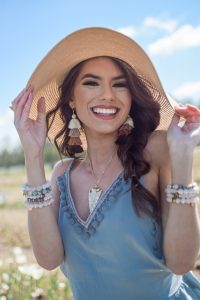 Spoil mom with the hottest accessories on the market! She will make a fashion statement this spring without breaking the bank with Kristalize Jewelry. Kristalize Jewelry makes unique bracelets, necklaces and earrings for women to stay on trend with the latest fashion, while also keeping it at an affordable price.
$22.50-$72.50  Buy now!!
Dona Bela Shreds
Dona Bela SHREDS creates stunning neckwear and headwear fashion accessories that give any outfit a fashion makeover! This​ innovative fashion brand seamlessly combines elements of practicality, elegance, and originality to new, unused ​textile remnants.
$20.00-$40.00  Buy now!!
Lavish Leathers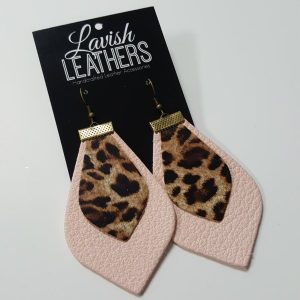 Fall in love with these ultra light, handcrafted Double Cut Pink and Banana Leopard Teardrop Leather Earrings! Available in three sizes (S/M/L) and all hooks are nickel free, ensuring all day comfort…and style!
$17.00  Buy now!!
Double Teardrop Dangle Earrings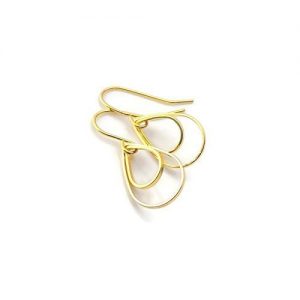 Two independently moving gold-tone dainty double open teardrops. These dainty, light weight, hypoallergenic dangle earrings perfect for everyday wear. They will arrive in a hand stamped box ready for gift giving.
$16.99  Buy now!!
By Lilla
No matter her lifestyle, you know your mom always has that trusted hair tie on her wrist. Developing a line of hair ties that double as bracelets, By Lilla has now expanded into a complete collection of hair elastics in a variety of colors and styles for your fab mom!
$15.00-$48.00  Buy now!!
Large Aqua Rose Earrings, Metal Free
Large 20mm pale aqua rose earrings on hypoallergenic plastic posts are perfect for pierced ears and anyone with sensitivity to metal earrings. They will arrive in a hand stamped box ready for gift giving.
$13.99  Buy now!!
Succulent Earrings, Metal Free
Soft matte aqua blue 13mm succulent earrings on hypoallergenic plastic posts for metal sensitive ears. Available in three beautiful matte colors in my Pretty Smart shop on Amazon. They will arrive in a hand stamped box ready for gift giving.
$12.99  Buy now!!
BelJoy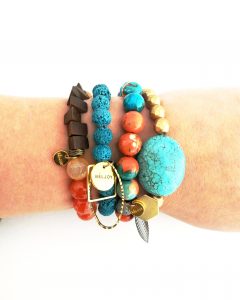 Give your special someone a piece of jewelry that also inspires change and restores dignity! Béljoy is a distinct line of handcrafted jewelry produced in Haiti + the US by local artisans. Béljoy offers men + women in Haiti the opportunity to earn a dignified and consistent wage through the art of jewelry making. By teaching this trade and paying a superior wage, we hope to encourage women and empower them to provide for their families. They are committed to the local sourcing of jewelry components like clay, paper beads, and horn.
$10.00-$84.00  Buy now!!
*All images courtesy of respective companies. – Splash Magazines is not paid for this content though some of the items are linked to affiliate links.